Britain's most fabulous shopping trolleys
Over 35 years making and delivering for our customers a market leading trolley
With thousands of Trolleys sold every year we have gained the trust the Sholley brand holds
Our latest collection boasts over 15 different styles and variations to fit all our customers needs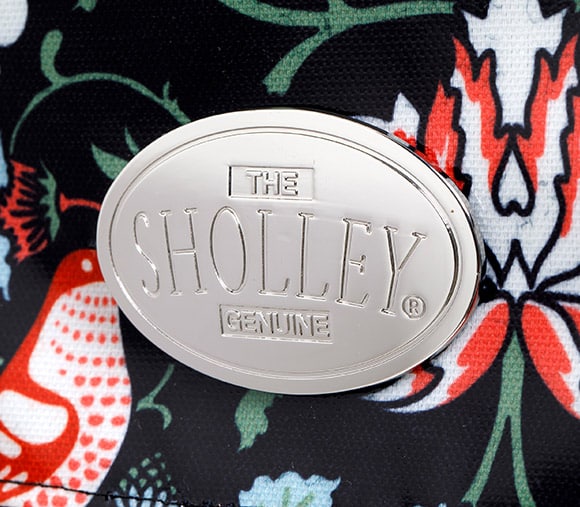 NOTHING COMPARES TO A SHOLLEY®
Over the last 35 years I have listened to you, my customers needs and believe The Sholley is now the strongest, lightest, most stylish, stable and 'easiest to walk with' shopper you will ever use. That's why I invite you now to try it on 14 day money-back guarantee trial. (sholleys cannot be accepted for refund or exchange if used outside)

Ask anyone you know who owns a Sholley: 'Are they pleased with it?' 'Would they buy a Sholley again?' In our experience, the answer is always an emphatic YES. In fact, many people swear by their Sholley because it really is so much better quality. That's why we receive so many recommendations and repeat sales.
BEWARE OF CHEAP IMITATIONS
True, you may find cheaper models. However they won't be as safe nor will they last or work as well as The Sholley. Which makes them poorer value in the long run. In a recent official Government General Product Safety Regulation Test The Sholley passed the various tests whereas others failed.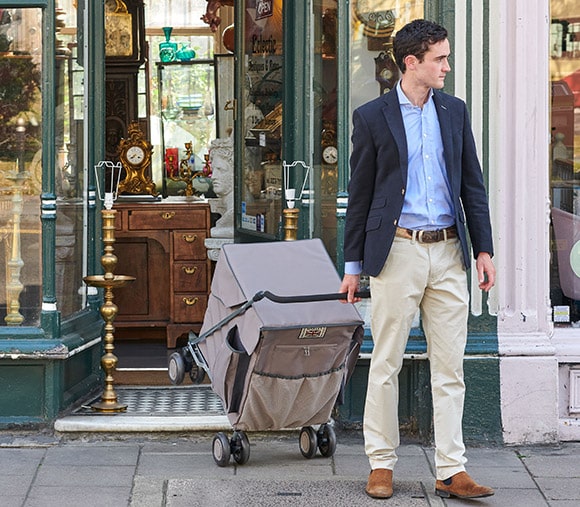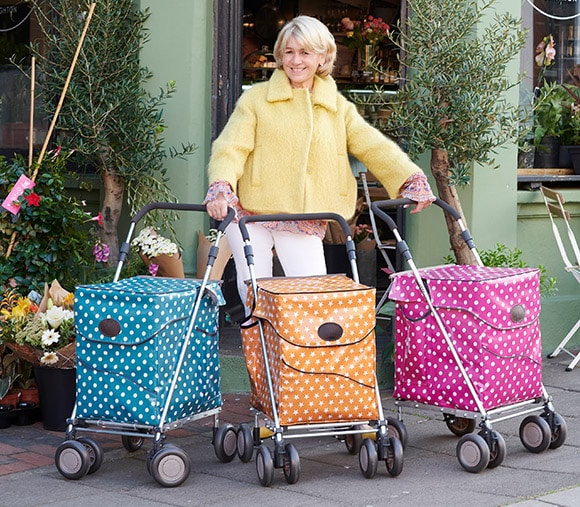 MAKING SHOPPING FUN AGAIN
The Sholley will change your life forever. For thousands of people (as one customer wrote): "It has turned a wearisome chore into a joy".

Not only will The Sholley give you greater independence and mobility but it provides a stable, safe support for leaning on and walking with.

So let The Sholley take care of your heavy shopping. It's unbelievably easy to handle – all you have to do is push it. The Sholley will do the rest.

And when you don't need it, The Sholley is ingeniously designed to fold flat so it can be stored neatly away at home or when travelling on a bus, train or in a car boot.
BRITISH QUALITY YOU CAN TRUST
Your Sholley will last much longer than any other model because we only use the finest graded materials. What's more all Sholleys are assembled at our own factory where they undergo the most stringent quality control programme. As a family run business, we manufacture and sell direct to provide you with exceptional value for money and service. Please see our latest range of models, bags and accessories on the following pages – designed to suit your shopping needs precisely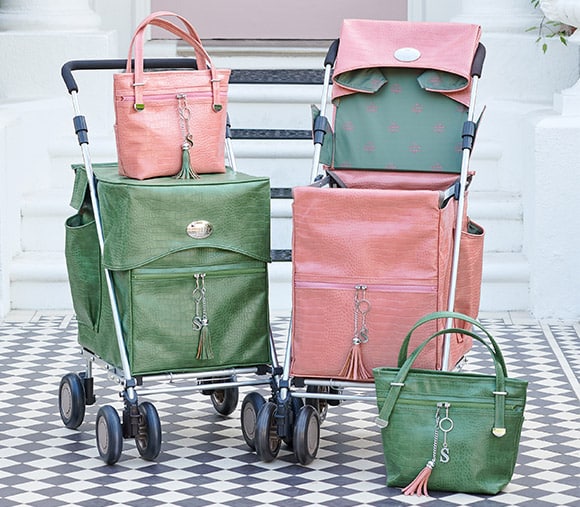 MY 'MONEY-BACK GUARANTEE' PROMISE TO YOU PERSONALLY
Don't take my word for it, don't even take my customers word for it. Try the Sholley for yourself and if you don't like it, just return to me within 14 days and I promise your money will be refunded. This is my pledge and is in addition to your normal statutory rights and our one year guarantee.
You can order by post (with cheque, P.O., credit/debit card) or by phone or internet (with credit/debit card), please see order form enclosed. Your Sholley should normally arrive within 48 hours from receipt of your order for you to examine in the comfort of your own home. If you have any query whatsoever, do not hesitate to get in touch with me, I promise to give you my prompt and personal attention at all times.
Now proven as the safest shopper to walk with
In recent independent Govt. Safety Regulations Tests – The Sholley was ranked as much safer than other shopping trolleys. 
Britain's best value shopper
Strong yet lightweight design should last 7-12 years and easily outlive cheaper limitations.  
All Sholleys fold flat – even with a bag in it!
The UK's easiest shopper to fold flat
 – instantly. No bending. No catches. Simply pull the front top bar towards the handle.  
Speedy 48-hour delivery
Delivery is usually very prompt, within 48 hours from receipt of your order. If you are not at home when your goods arrive, there is no need to worry. Our couriers will leave a "calling card" for you to phone and arrange a convenient time for delivery.
Unique 14-day money back guarantee
If for any reason, your Sholley goods are unsuitable, please return within 14 days for a prompt refund as required. We can collect your Sholley at your convenience for which there is a small charge set as per your original delivery cost. (sholleys cannot be accepted for refund or exchange if used outside)
Help and advice line – 01255 431444


If you can't decide which Sholley to choose or have a query about your order then please telephone us and our experienced and friendly staff will be happy to help.

New improved totally adjustable handle value


Telescopic handle is now the easiest to adjust for angle and height to suit all walking positions. (Patent No. GB2390407)

Exclusive anti-tip design


So stable, safe and strong to lean on and walk with – thanks to our unique anti-tip design.

No Rear Axle & NEW PARK BRAKE


Not only can you walk close behind without tripping, but simply flip down the park brake to lock the back wheels.

New smoother running wheels


New larger better quality wheels provide extra shock absorption. Yet so light and easy to steer – you can glide safely along in any direction.

Save £££s by buying direct


Your Sholley should be delivered direct to your door within 48 hours, fully assembled.

Extra thick, soft, warm easy – grip handle


Now makes Sholley even easier to grip and manoeuvre. Made from micro cellular foam that is soft, warm and comfortable to touch.

1 year guarantee


Plus friendly after sales service – spares always available.

Over 500,000 happy customers


As a family run business, Sholleys have been helping people walk and shop for the last 35 years.