Reduce your Carbon Footprint
with Sholley
Learn more about how using a Sholley can reduce your personal carbon footprint as well as improving your health through exercise and saving you money with a long-lasting, easily repairable product.
With the state of current climate change warnings, people are being encouraged to walk and reduce their carbon emissions. Walking is also a huge benefit to your health, and can help to improve your mobility and overall physical and mental health. According to the NHS, "Exercise just once or twice a week can reduce the risk of heart disease or stroke." They recommend that adults partake in at least 150 minutes of exercise each week in order to maintain a healthy lifestyle. For more information, click here.
Not only do you improve your personal health and fitness, but you'll also be saving money on fuel and parking!
Every Sholley has been designed to not only carry your shopping, but aid your walking – meaning you can improve your health and reduce your carbon footprint with ease!
Light & easy to manoeuvre. Folds flat instantly.
Lockable, swivel front wheels. Easy to apply foot brake
Strong supported Lid suitable for supermarket basket, crate of wine/beer etc.
Safety assured, height and angle adjustable handle with foam grip
Recommended by Doctors & Physios – Stable to lean on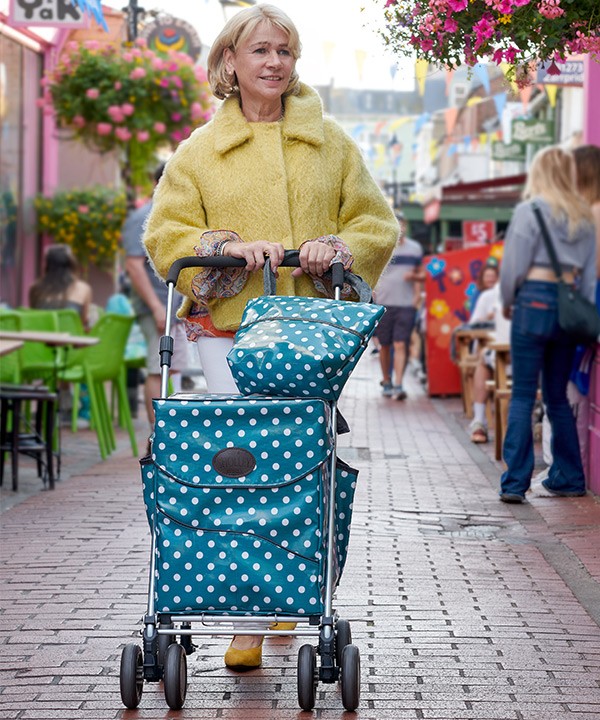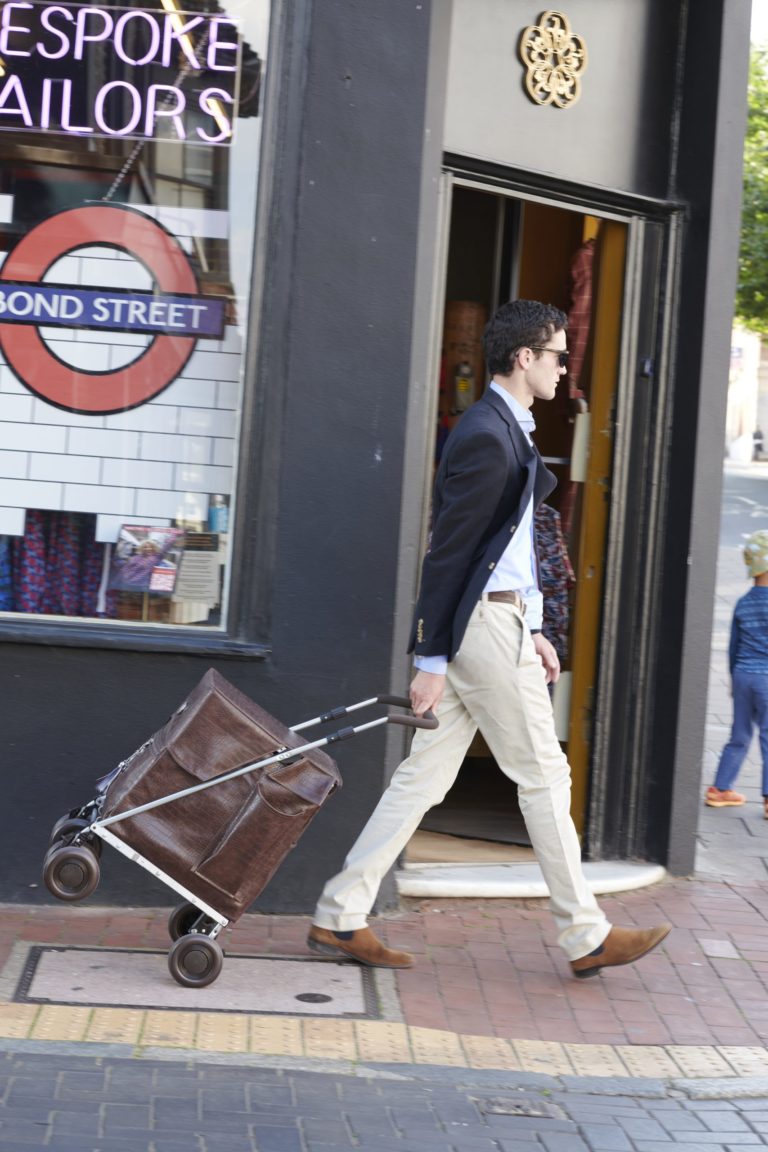 Reusable plastic bags are all well and good – when we remember to take them with us! The reality is that many of us leave them at home, or in the car – and by the time we get to the checkout, it's too late. We've got to buy more or immediately become expert jugglers!
With your own Sholley, this becomes a thing of the past. Take it with you as you walk and let it lighten your load with it's stability features and never get caught short at the tills again.
A Sholley might seem like a big investment, but you'll actually save money in the long run. If you use a Sholley for your weekly shops for just 5 years, you could save approximately £260 on plastic bags!
Obviously, by reducing your plastic bag consumption you'll be reducing the amount of wastage –  that's how we reduce our personal carbon footprint.
But it goes a little bit further than that when you buy a Sholley!
Most of our customers tell us that they've had their sholley for over 10 years, meaning their plastic consumption and overall savings are much greater.
We're also pleased to showcase our fantastic warranty and aftersales services! Unlike many cheap imitations available on the market, Sholley use only the finest quality parts assembled in our UK warehouse in Clacton. Our aftersales service can supply spare parts should you encounter a rare problem after the warranty period. Easily repairable, built to last and no planned obsolescence, with the right care your Sholley can end up saving you hundreds of pounds!
18 billion pounds of plastic float into the ocean annually from coastal regions
40% of plastic packaging is used only once
Nearly half of all plastic ever created was made after 2020 
Less than one-fifth of plastic is recycled 
Almost 1 million plastic bottles are sold every minute around the world 
According to the Environmental Investigation Agency and Greenpeace UK reports, 1.1 billion single-use bags, and 958 million bags for life.
If we can each reduce our personal single-use plastic consumption, we can help to reduce the amount of plastic waste that ends up at landfill and in the ocean and begin to rebuild our planet for the future.
Facts courtesy of  https://www.beeco.green/